You are here
Digital Initiatives
The Galecia Group has offered website and application development services to libraries and consortia for nearly a decade.
Our custom application development team has built everything from simple apps for internal teams up to digital humanities projects viewed by thousands of visitors.
We also support and host the open source summer reading program, Bookpoints, which we co-developed with our library partners.
 
Projects and Presentations
Date

2018

2016-2018

2013

2009-2013
2015-

2014

2014

2017

2012-2017
,

2017

2017
,
2015-2016
The Galecia Data Lab provides training and assistance for libraries seeking to collect, visualize, and publish data.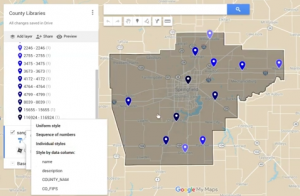 From data-driven decision-making to "maps & apps" development, see what we can do for your library.
---
The Galecia Group is offering a series of workshops that will give librarians the skills they need to find, manage, and visualize data for their communities.
---