You are here
Building a Chatbot for the Illinois Department of Natural Resources
Posted by Jim Craner on December 13, 2017
Ever been to a "hackathon" -- a gathering of technologists committed to working on a short-term project, usually a couple of days? Imagine two dozen programmers, designers, and specialists locked in a room for 2 days with laptops, snacks, and caffeine, all focused on prototyping an innovative app for a good cause. Learning, sharing, and pure geekery ensue!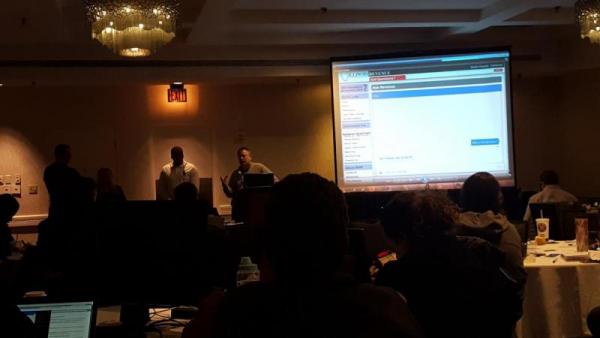 I was recently invited to participate in a state government-focused hackathon in Springfield, Illinois -- the state's capital and home to most state agencies and departments. Representatives from several agencies attended, including the State Tollway Authority, the Department of Revenue, and the Department of Children and Family Services. As one of the few private sector employees, I volunteered to work with a team from the Illinois Department of Natural Resources. This is quite a department -- from hunting and fishing to mining safety and administering the state's waterways, IDNR encompasses dozens of departments with an expansive mandate. (The hackathon, which was free for attendees, was sponsored by Microsoft, the Illinois Department of Innovation and Technology, and Innovate Springfield.)
The focus of the hackathon was to utilize new chatbot and artificial intelligence technology to help these government agencies fulfill their missions. Microsoft kicked off the hackathon by providing everyone with temporary accounts on their Azure cloud platform, followed by an interactive presentation giving attendees the basics on their chatbot tools:
QnA Maker - an app that automatically converts a public FAQ page into a bot-ready knowledge base of information.
Bot Framework - a cloud-based service that provides the ability for a Bot to communicate via multiple channels, such as SMS/text, website widgets, Skype, Facebook Messenger, and more.
Azure - Microsoft's cloud platform, which hosted our prototype chatbot interfaces, and associated development tools.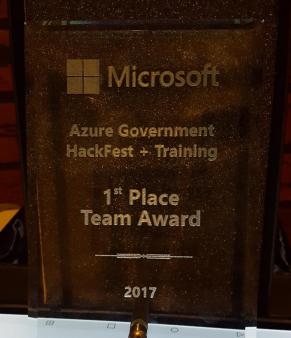 The results were stunning! With only parts of two work-days to collaborate, the attendee teams built some incredible projects:
The Department of Revenue team built a conversational chat interface to their state tax FAQ and managed to put it into limited production use.
The team from the Department of Children and Family Services prototyped a new project to streamline and reduce costs in the foster parent background check and fingerprinting process, with huge potential benefits to foster families, department employees, and the state budget.
Our Department of Natural Resources team built a prototype chatbot to direct members of the public to the correct webpage based on their conversational inquiries, which is important for a site with hundreds of departments, forms, permits, licenses, and other topics of interest to the public.
I'm proud to say that my team, including Lisa Ferguson and Brandy Schuerman of the Department of Natural Resources, won 1st Prize in the judging with our prototype: Buck the Bot, IDNR's newest public face! Our presentation is below.
- Jim Craner