You are here
Book Review of RFID: Applications, Security and Privacy
Posted by Lori Ayre on December 27, 2005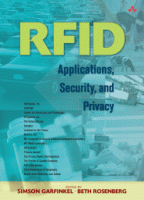 Having written one of the chapters, I've been anxious to see how this book is being received. Here's the first review I've seen so far by Konomi of RFIDBuzz.
"This is a very rich collection of articles contributed by people with diverse backgrounds, viewpoints, and stances. It was just published from Addison-Wesley this summer and includes a number of fresh topics that are highly relevant to the ongoing debates on RFID technology and its implications for all facets of our lives."
I'm just now reading the book myself and I'm finding it to be a good, balanced look at RFID. To quote from the preface, this book "is the most balanced and accurate discussion you will find of RFID technology and its attendant controversy anywhere on the planet." Possibly true!
P.S. Happy Birthday, Mom!