Dive into the world of Scratch, the free kids programming language, with our comprehensive webinars tailored for library staff. Learn the basics and explore creative applications such as building a sound effects storytime soundboard and animating children's stories. Empower yourself to lead engaging Scratch classes and workshops in your library, fostering the next generation of coding enthusiasts.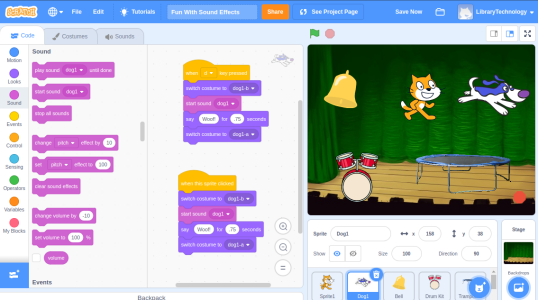 Workshop Descriptions
Scratch for Library Staff: Storytime Sound Effects
Are you ready to take your library's storytime to the next level? Join our upcoming webinar on Scratch programming, specifically tailored for public library staff. This interactive webinar will provide you with a basic introduction to Scratch and demonstrate how it can be used to create a sound effects board for your storytimes. With dozens of sound effects and graphics to choose from, you can customize your board to perfectly match your upcoming stories. Plus, there will be plenty of time for Q&A so you can get all your questions answered. Don't miss out on this opportunity to enhance your library's STEAM programming and bring your storytime to life with Scratch!
Register for the Tuesday, June 13th Workshop
Register for the Wednesday, September 13th Workshop