You are here
Library Data Lab
The Galecia Data Lab provides expert assistance for libraries embarking on data-intensive projects. From operationalizing ILS data to building library-provided community data portals, our team has the skills, tools, and experience to help achieve the results your library needs.
---

 "Apps & Maps" Development
From simple "library maps" to complex digital history exhibits, our team can help build your library's next data-driven project.
---

 "Open Data, Local Data" Training Sessions
We deliver customized training sessions, on-site or online, to give your staff the data literacy skills needed for future projects.
---

 Data Visualization Projects
Turn columns of numbers into compelling visual stories with our charts, infographics, maps, and interactive visualizations.
---

 Open Data Catalog Management
Building an open data collection is a great way to augment your reference department, local collections, and online collections.
---

 Research and Field Survey Data
Whether you're collecting data from government publications using the Internet, or surveying your own community, we can provide tools and resources that can help ensure your project's success.
---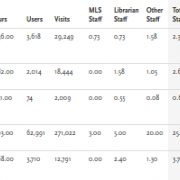 Seeking data on comparable libraries across the country? Need to generate data on libraries in a particular region or jurisdiction? Check out our free Library Data Finder app to generate reports, spreadsheets, and more.
---
The Galecia Group is offering a series of workshops that will give librarians the skills they need to find, manage, and visualize data for their communities.
---